This Currier and Ives lithograph, called Winter in the Country, Getting Ice, is one of the American Country Scenes showing the American farm life throughout the seasons. It shows men cutting ice on a frozen lake while the horse and sleigh wait patiently to haul the ice home.
During the 1880s, a typical farm as that shown in the background would have had an ice shed dug into the ground or a hillside to store the ice in a cold place. This type of work, which may have been typical to those living in the country in colder climates, still carried a aspect of drama that Currier & Ives loved to show in their art. The ice looks thick enough, but there still are perils in cutting and hauling such loads over ice.
If you are looking to experience this yourself, you can try a working weekend at Farm & Wilderness year-round camps. Tired of being stuck in the office? You can go to Flying Cloud to cut blocks of ice from the pond and store them in the ice shed as part of one of these work programs.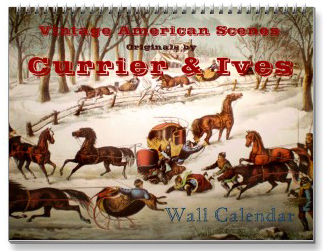 The lithograph, Winter in the Country, Getting Ice is also available in print as part of the Vintage American Scenes Wall Calendar at our Zazzle Store.