The 1800's saw the emergence of steam ships as a viable means of transportation. This wonderful Currier & Ives lithograph, Entrance to the Highlands (Hudson River Looking South), not only captures the majesty of the Hudson River and surrounding mountains, but also captures the sense that the steam ship will soon be replacing the clipper ships.
The steam ship is shown forging through the strait, proudly flying the American Flag, while the clipper ships or sailing ships must tack back and forth to navigate passage. Once again, a Currier & Ives lithograph has immortalized not only a beautiful American scene, but also created a snapshot of American sailing or shipping history.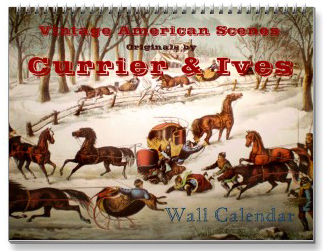 This is a great, unique gift for that sailor in your family that is so hard to buy for! The lithograph, Entrance to the Highlands is also available in print as part of the Vintage American Scenes Wall Calendar at our Zazzle Store.