This Currier and Ives lithograph shows The Great Chicago Fire, on October, 8, 1871. This lithograph is violent and dramatic and today one may wonder why this event was captured as art.
At that time, a firm like Currier & Ives often worked in a journalistic manner providing lithographic images to newspapers. There were no photographic reporters then, this job was done by artists and lithographers.
This was a great, historic event, as much of the city of Chicago was burned from a fire that started near or in a small shed that bordered the alley behind 137 DeKoven Street. The fir burned for three days being fueled by the wooden frame buildings of that part of town and the preceding dry weather, destroying four square miles of Chicago and killing hundreds of people.
For many years, the fire was rumored to have been started by a cow kicking over a lantern in in the barn owned by Patrick and Catherine O'Leary. Later, a Chicago Republican reporter admitted to having created the cow story to sell newspaper copy. But this was the stuff of American legend for many years and I even remember my grandparents talking about the cow that kicked over Mrs. O'Leary's lantern.
In 1937, the movie In Old Chicago was released, starring Tyrone Power to tell this dramatic story with the background of the O'Leary's as a poor family whose sons worked their way up into being important people in local Chicago politics and business.
Nathaniel Currier actually got his start as a well known lithographer by just such a journalist lithograph of the Planter's Hotel in New Orleans after a fire in 1835. At the time, illustrated news was scarce and the lithograph of the hotel fire was done in such a way to report it as news. This began a career for Currier which combined his artistry for lithography along with a desire to illustrate grand and great aspects of American life, politics, and history, of which the great Chicago fire is one.
Also captured here are all the sailing vessels in the Chicago port that were either viewing the fire from a front row seat or attempting to aid by rescuing people from the wharfs.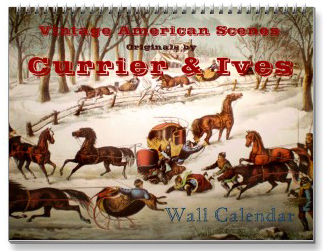 This lithograph of The Great Chicago Fire is also available in print as part of the Vintage American Scenes Wall Calendar at our Zazzle Store.