This Currier & Ives lithograph called, Mountain Pass, is a colorful image of rugged Western American mountain wilderness. With mountain peaks, pine trees, a bear, rapids a stream, and a Native American brave in the upper right, it shows the wilderness that many people from the Eastern United States only read about or saw in pictures.
For the Currier & Ives firm, documenting the experiences of 1800s America included the great National Parks, like Yosemite, that were such a famous part of the American experience. An Eastern Victorian buyer may not ever get there, but they could sure hang a Currier & Ives print in their library over the fireplace.
I'm grateful that I have seen places like this and hiked them myself. When I'm old and sitting in that rocking chair in front of the fire, with the Currier & Ives print over the mantel, I can look back and remember what those mountain streams, trees, and flowers really looked like. ~M. Parsons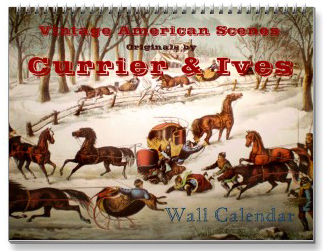 This is a great, unique gift for that hiker or back-packer in your family that is so hard to buy for! The lithograph, Mountain Pass is also available in print as part of the Vintage American Scenes Wall Calendar at our Zazzle Store.