This Currier and Ives lithograph, Deer Shooting on the Shattagee is a famous and popular hunting print. Shown here are two backwoods men hunting deer in winter along the Shattagee River. The scene depicts the clothing and hairstyles of a hunter in 1855.
In the early to mid 1800's, hunting and fishing were necessities of life for many Americans living on the frontier. Whether needed for their own survival, or as a business venture to supply the ever-growing cities in the East, the backwoodsman on the American frontier was adept at hunting and fishing.
Later, in the latter part of the 19th Century, hunting and fishing became more of a sport and many magazines were devoted to the science of both. Currier & Ives enthusiastically captured this aspect of American life in lithograph, preserved for all time.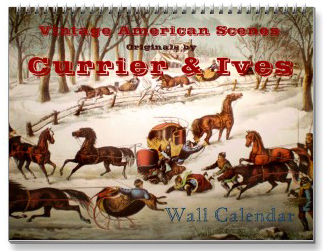 The lithograph of Deer Shooting on the Shattagee is also available in print as part of the Vintage American Scenes Wall Calendar at our Zazzle Store.