This great Currier and Ives Lithograph – Trolling for Blue Fish, shows some gentlemen from the 1800s in a small sailboat on ocean waves. With true Currier and Ives drama, the ocean waves are somewhat violent, as is the sky, indicating the onset of a storm.
In the early to mid 1800's, hunting and fishing were necessities of life for many Americans living on the frontier. Whether needed for their own survival, or as a business venture to supply the ever-growing cities in the East, the backwoodsman on the American frontier was adept at hunting and fishing.
Later, in the latter part of the 19th Century, hunting and fishing became more of a sport and many magazines were devoted to the science of both. Currier & Ives enthusiastically captured this aspect of American life in lithograph, preserved for all time.
This lithograph clearly shows the change to fishing as a sport since all the men, though roughing it on white-capped ocean waves, are all dressed nicely as if they were about to meet at their favorite club.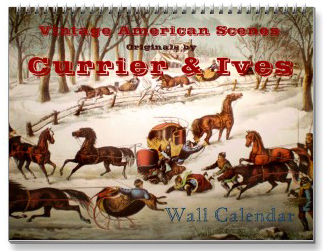 This is a great, unique gift for that fisherman in your family that is so hard to buy for! This lithograph, Trolling for Blue Fish is also available in print as part of the Vintage American Scenes Wall Calendar at our Zazzle Store.