Shown in this vintage postcard is an old train from 1914 as seen through a fissure ( known simply as "The Crevice") in the solid rock walls of the Royal Gorge Canyon in Colorado.
The Royal Gorge Canyon is a steep gorge through the solid granite of the mountain called Fremont Peak near Cañon City, Colorado. The Royal Gorge as a width of fifty feet at its base and only a few hundred feet at the top making it an extremely narrow, steep canyon with the Arkansas River running through it.
The old locomotive in this vintage postcard look to be one called a "Mogul Locomotive" made at the Baldwin Locomotive Works and shown below. The Mogul Locomotive has three pairs of driving-wheels, but only one pair of truck-wheels. The driving wheels being the three large wheels, while the truck-wheels are the small ones in front. Locomotives at that time had different designs in number of small and large wheels and this particular one was used to carry heavy freight and was a more powerful locomotive that would have been used to navigate the Royal Gorge line.
Mogul Locomotive by the Schenectady Locomotive Works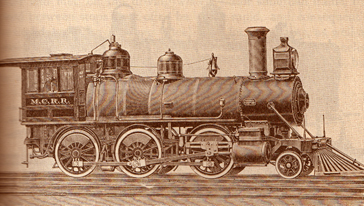 You can imagine that the train that runs through the Royal Gorge canyon of sheer cliffs of granite offers a thrilling ride to the passenger in 1914 as now. This antique postcard shows just such a glimpse of the train passing by the cut in the granite, or Crevice, of Royal Gorge Canyon.