By the early 1800s when Merriweather Lewis and William Clark reached the West Coast of the America, the Spanish had been in California for three hundred years. Spain had maintained a number of missions and presidios in New Spain since 1519 and laid claim to the north costal provinces of California in 1542. The royalty of Spain sent out many expeditions over the next two hundred years to explore and settle New Spain of which California was a part. They were particularly anxious to maintain control of the area against Russian adventurers coming down from Alaska.
Father Junípero Serra, a Franciscan, founded the Alta California mission chain, which played a significant role in California history. The chain of California Missions were a series of outposts running from San Diego up through California to the San Francisco area. The missions were spaced about 30 miles apart, so that travelers could ride from mission to mission in one day. These outposts were established to bring Christianity to the local Native American populace, while at the same time provide some claim to the land for Spain. The missions held one or two priests, some soldiers, and many natives that were used as unpaid labor to build the mission buildings, maintain the grounds, grow fruits and vegetables and tend to livestock.
By 1827, the Mexican Government, which had taken control of the land from Spain, passed the General Law of Expulsion which exiled Spanish born people and removed the clergy from the missions in California. Some of the missions were then nationalized by the Mexican government and sold off. It was not until after California's statehood as part of the United States that the US Supreme Court restored some missions to the orders that owned them.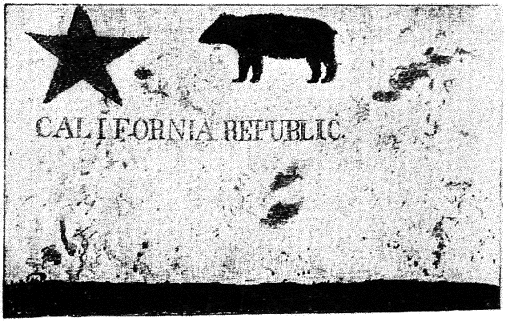 In 1846, United States declared war on Mexico. American army captain, John C. Fremont, was then in California with a troop of men and joined non-military settlers in overtaking Mexican forts. They raised the "Bear Flag" of the California Republic over Sonoma on June 15, 1846. Today the state flag is based on this original Bear Flag.
In 1848, the United States agreed to pay Mexico $18,250,000 and Mexico formally ceded California (and other northern territories) to the United States. The first international boundary was drawn between the US and Mexico by treaty. California was run by the U.S. military until 1850, with towns being run by mayors and councilmen. On September 9, 1850, Californiaofficially became the 31st state of Union of the United States of America.