The state of Nevada has the nickname, "Silver State," due to the vast silver deposits within the state. Today, 80% of all silver mining happens in Nevada.
In 1864, Nevada became the 36th state to enter the Union of the United States of America. The state flag bears the term "Battle Born," reflecting the state's entry into the Union side during the American Civil War.
Bonanza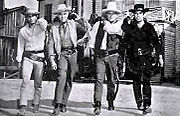 What would Nevada history be without some mention of Bonanza, that great TV show from the 1960's/1970's with Ben Cartwright, Adam, Hoss, and Little Joe. Lorne Greene played Ben Cartwright, Pernell Roberts plays Adam Cartwright, Dan Blocker as Hoss Cartwright, and Michael Landon as Little Joe Cartwright.
When I was a child, I always wanted to live wherever The Ponderosa Ranch (home of the Cartwrights) was located, but being a kid, I never paid attention to the locations. Then by some subconscious working of my mind, I ended up living in the places where they filmed Bonanza – Incline Village, NV and Thousand Oaks, CA. If you watch carefully on a Bonanza episode, you'll see the scenery changes from the tall, majestic pines of Incline Village on the North shore of Lake Tahoe, to the Oak trees and grassy plains of what is now Wildwood Park in the Conejo Valley, just outside of Hollywood. Wildwood Park in Thousand Oaks, CA, was once the Janss Ranch, one of the many locations used for the scenery of the Ponderosa.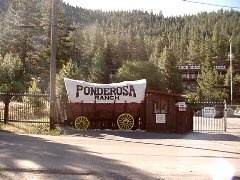 And by the way, when "Pa" and the boys ride from The Ponderosa over to Virginia City, let me tell you, that is quite a ride. They had to go over Mt. Rose, which is over 9000 ft. at the summit, then down into and across the Reno Valley, up and over the mountain on the Eastern side of the Reno Valley into the desert side of Nevada to Virginia City. You need to visit these areas and see for yourself. If they rode from Incline Village to Virginia City and back in a few hours – well, who am I to dispel myths . . . Let the legend live on.
Listen to the instrumental version of the theme song from Bonanza.